I hope your new year is off to a great start! It's been a busy start both locally and across our nation.
The Capitol Building in Washington D.C. was stormed on January 6th as a result of major social unrest tied to the presidential election and transition. The event ended with the death of a Capitol Police Officer. Officer Brian David Sicknick was on duty at the Capitol during a rally for former President Trump. This rally finished and the attendees eventually organized enough and walked to the US Capitol.
These rally attendees gathered and sieged the US Capital – breaking windows and doors. Using homemade weapons and/or weapons of opportunity at the event. During the siege, Capital Police Officer David Sicknick was struck in the head with a fire extinguisher while physically engaged with protestors trying to occupy the Capitol building. After being struck, Officer Sicknick returned to the Capitol Police Office. Once inside the office, he collapsed and never regained consciousness. Officer Sicknick died from his injuries the following day. He was a US Air Force Veteran and had been an officer with Capitol Police for 12 years.
Right now, there is a lot of tension and division in our nation. This trickles down to state and local government – and even further into our local agencies in some form or another. I see and hear it personally- and I also listen to many of you who call me to vent your frustrations about these issues. Most of the calls come from those in patrol, specialty units and dispatch. I take in your concerns and work to convey and resolve these matters with the Sheriff's Administration. I urge you to continue to keep me informed of personnel matters that bother each and every one of you in the different workstations you occupy.
Fresno County Retirement Rates
The Fresno County Retirement Board is legally required to conduct periodic actuarial studies of the County's retirement system. The retirement system's funding status is evaluated every year, based on a June 30th effective date.
The purpose of this analysis is to evaluate the solvency of the fund and determine the contributions required by plan members and the participating employer for the upcoming fiscal year.
Any action proposed by the Retirement Board that would impact the plan's interest rate, or employee and employer contribution rates, must be provided to the Board of Supervisors for consideration at least 45 days prior to the beginning of the succeeding fiscal year.
Overall, with COVID-19 still with us and an unsteady economy we are doing okay on rates the employees will be paying. Some went up a hundredth of a percent and some went down the same.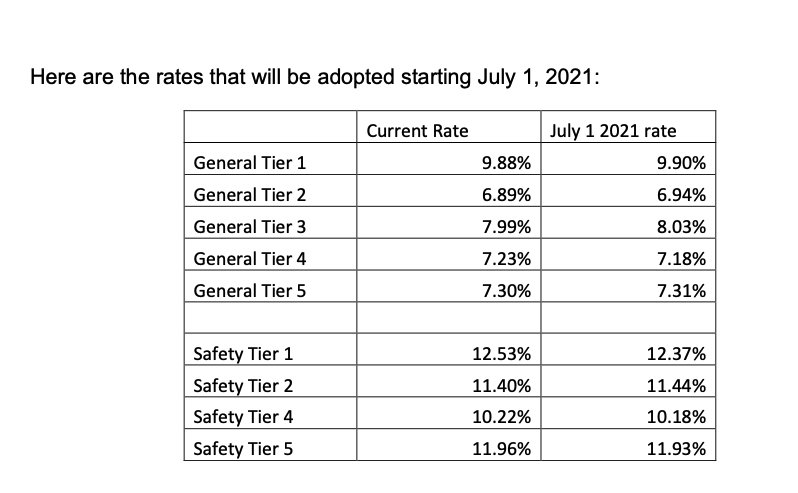 Staffing and Hiring
Over the past two-three years, there's been an increase in the hiring of deputy sheriffs and dispatchers. These are positions that are still filling current positions as we deal with post-recession, separations (termination, resignations, or medical) and through retirements.
We just did our first test for Communication Dispatcher using the Criticall program. This program is now being used by over 1800 agencies across the county for preemployment screening. This is a better clearing house for FSO to essentially see where the potential employee falls within the job. Basically, this gives applicants a better idea of what the job entails and if the candidate has the skills to achieve once hired. Our current dispatch vacancies are at 8 per Sheriff's HR.
Deputy Sheriffs have a vacancy rate of 14 deputy sheriffs based on Sheriff's HR. We have seen our latest group of new hires go from passing the FTO program and finally being deployed as a solo working deputy sheriff.
We are hoping to be able to hire even more dispatchers and deputy sheriffs in the near future to get back up to more reasonable levels.
As I wrap this newsletter, please know that no matter what you are dealing with, we are here for you and equipped with resources to help you navigate life and your career. We care about you as individuals and understand the past year has been a challenging time for many. Feel free to reach out anytime with any questions or concerns, my door is always open.
My best,
Eric